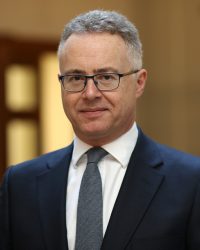 Mr. Ambassador Nigel Baker
Honorary president
Nigel Baker took up his appointment as British Ambassador to the United Kingdom in the Slovak Republic in August 2020. In this role he represents Her Majesty The Queen and the UK government in the Slovak Republic.
Prior to this role, he was for 3 years Head of the Foreign Office's Latin America Department before serving a short period as Head of the FCO's COVID Joint Action Coordination Team. He served as British Ambassador to the Holy See from 2011-16, and British Ambassador to Bolivia from 2007-11.
Mr Baker joined the FCO (now FCDO) in 1989. Previous roles in London include desk officer for Tunisia and Libya in the Near East and North Africa Department, and Head of the European Defence and Security team in Security Policy Department. He was posted to Prague in 1992 and transferred to Bratislava from 1993-6 following the separation of Czechoslovakia. He was Deputy Head of Mission in Havana from 2003-6.
From 2000-03 Mr Baker was Assistant Private Secretary to The Prince of Wales, supporting HRH with his international engagements and visits including his visit to the Czech and Slovak Republics in 2000.